"That's A Wrap". A look back at what was 2016.
Off the back of a very successful 2016 year, Aqua Pontoons is fast becoming a household name in the Pontoon Manufacturing and Installation Industry.
Aqua Pontoons based locally on the Gold Coast, has moved forward in leaps and bounds over the last 12 months. From practical and functional to trendy and stylish, Aqua Pontoons along with its associate brand Aqua Piling has raised the bar among other local pontoon and piling businesses, with their constant drive for customer satisfaction and product quality setting them apart from the rest.
Owner/Operator Simon Dyer, in a recap of the year, said, "The launch of 2 new barges was a fantastic boost to our company profile, as this was a direct result of an increase in demand for pontoon installation and that fact that people are ordering larger pontoons."
Aqua Piling purchased their first piling barge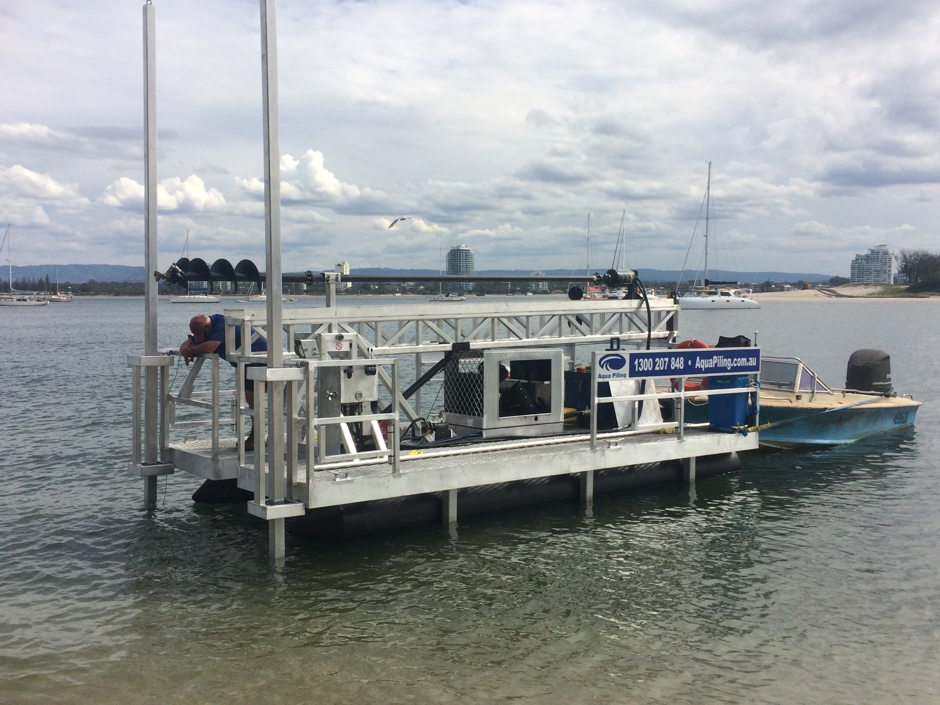 The launch of Aqua Pilings second piling barge, a transportable barge to cover a larger area.
As a flow on effect from an increase in larger boat sales within the Marine Industry, Aqua Pontoons has recorded a demand for bigger pontoons to be installed. This request has also placed a feather in the cap of the Aqua Team, with positive feedback suggesting that Aqua's turnkey solutions are what keeps people coming back each time they're in the marketing for a new system.
Simon suggested, "It's been brought to our attention on many occasions that our full-service package is what people are looking for during the process of getting a new pontoon. From an onsite obligation free quote, council approvals, drafting and engineering through to the full installation, we customise and guide each client through the process and subsequently when they are looking to upgrade they are more than happy to give us a call because they know we can deliver the perfect outcome."
New demand of larger pontoons. This 30-metre system was installed at Hope Island earlier this year. It comes with concrete Rocla Piles, Black HDPE Sleeves, white pile caps and three light posts.
Innovation and style are not always words that you would associate with pontoon installations. However, Aqua Pontoons and Aqua Piling are excelling in this field. Earlier on this year, the Aqua team installed a stub and stairs to an entry arm in a local Gold Coast canal.
Simon explains further and says, "In some cases, installing a pontoon to a client's property can be challenging due to existing structures on land.
Some properties have pools that are fenced to meet local law; therefore, we need to keep in mind the position of gangway so that this also does not impose on the pool regulation code.
Also, clients have existing decks or boat ramps that need to be considered to take advantage of and utilise to the best ability. "
This stub and stairs enhance the functionality of the entry arm, enabling the pontoon to fluctuate better with the tide. 
Another installation of note was the completion of the first pontoon to use Aqua's new unique aluminium waler. An aluminium waler is a framework which a pontoon can be made from. Aqua was lucky enough to get their hands on a system, that not only allows them to build a stronger pontoon, but gives them the option to custom fit accessories that customers wish to include, extras like pontoon fenders, bumpers and roller systems.
Simon says, "As Aqua Pontoons is becoming the leader in the residential Pontoon market, it become apparent to meet the market and our competitors, we needed to use the Extruded Aluminium Pontoon waler.
Our Aluminium waler was designed to take into account that it could be used to add to our competitor's pontoon structures, but still be unique to Aqua Pontoons design and quality.
With our design, I created it to sit over the floatation unit to lock in place and create not only a smarter looking pontoon but exceeding engineering requirements. We also added extra thickening to the structural sections of the aluminium waler to ensure construction requirements are met and exceeded."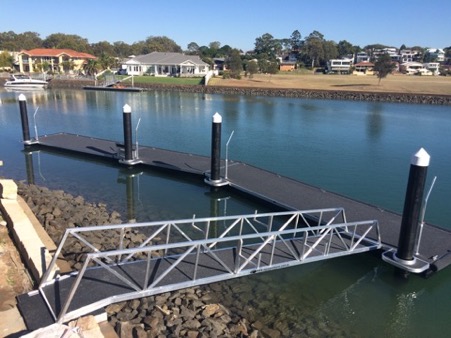 Aqua Pontoons first pontoon installed using their new unique aluminium waler. Hope Island, Gold Coast. Comes complete with concrete Rocla Piles, Black HDPE Sleeves, white pile caps, four light posts, kayak holders, seat and Pro Fender Pontoon Fenders.
Finally, in our 2016 recap, Aqua Pontoons has created a niche market which looks at the combination of timber decks and pontoon structures, to create the ultimate backyard to water transition.
Most suburbs only allow one structure per property, whether it be a fixed structure (timber jetty or similar) or a floating structure (pontoon).
Simon explains, "In some areas, such as " Cova " at Hope Island, Brisbane River, Newport and some areas on the Sunshine Coast, Council will approve two structures.
By adding a timber deck, this increases the owners available land size, hence increasing their property value and making the most of the allocated water space."
Incorporating timber decks and pontoon structures.
https://aquapontoons.com.au/wp-content/uploads/2016/12/Picture4-1.jpg
338
451
Ross Meadows
https://aquapontoons.com.au/wp-content/uploads/2023/06/aqua-pontoons-logo-white-copy.png
Ross Meadows
2016-12-20 16:40:59
2016-12-20 16:40:59
"That's A Wrap". A look back at what was 2016.