Pontoons vs Jetties and the difference in pile types
Here at Aqua we often hear the confusion between pontoons, jetties and the different pile types and in this weeks blog I wanted to explain the differences and which one may suit you and your property.
Pontoons: Pontoons are classed as a floating structure and fixed in place by one of 3 methods –
1: Piled Pontoons as the name says are fixed in place using generally two piles, however depending on the size of the pontoon more piles will be used. The most commonly used pile types are either..
PVC in-situ piles, these are generally made in a few steps the first being a hollow PVC pipe is jetted down into the seabed around 3m+ then re-bar cage is added followed by concrete from a line pump.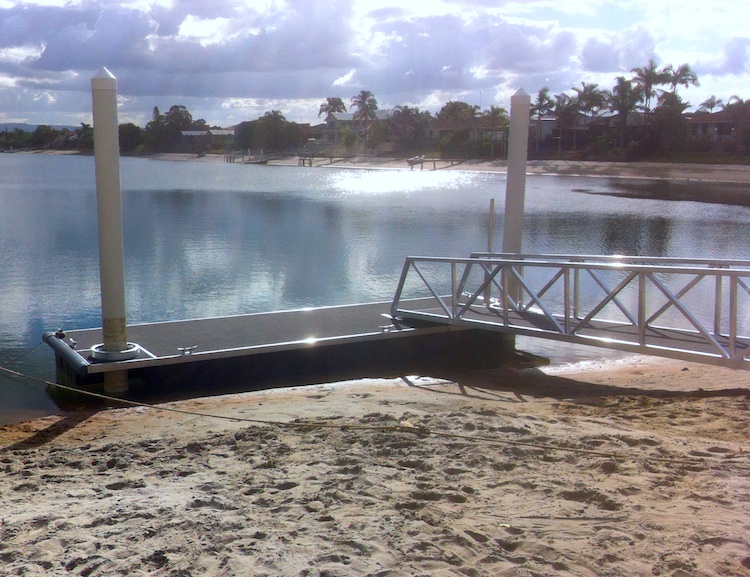 Spun Concrete Piles are a preformed pile which are purchased from one main manufacturer in Australia called Rocla, these are available in a range of sizes and most commonly on the Gold Coast we use 350mm, 400mm or 450mm diameter piles. Spun piles are generally stronger than the in-situ pile but are worth more to purchase.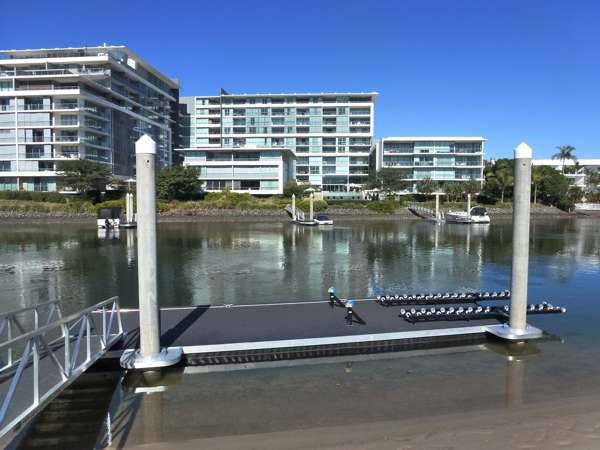 Steel Piles are very common in places such as the Brisbane River due to the Q100 flood level, every area has a predetermined height that the piles must meet. Using these piles is common as they are available in 12m lengths and can be cut to size and welded in place on site giving the flexibility to get further seabed penetration and to meet the Q100 flood level with minimal fuss. Steel piles are then finished with a black HDPE sleeve followed by white or black pile caps making them very aesthetically pleasing for most home owners. These are generally the most expensive of all the pile types as they involve more labour and barge time but are flexible in size for tricky locations such as Brisbane River.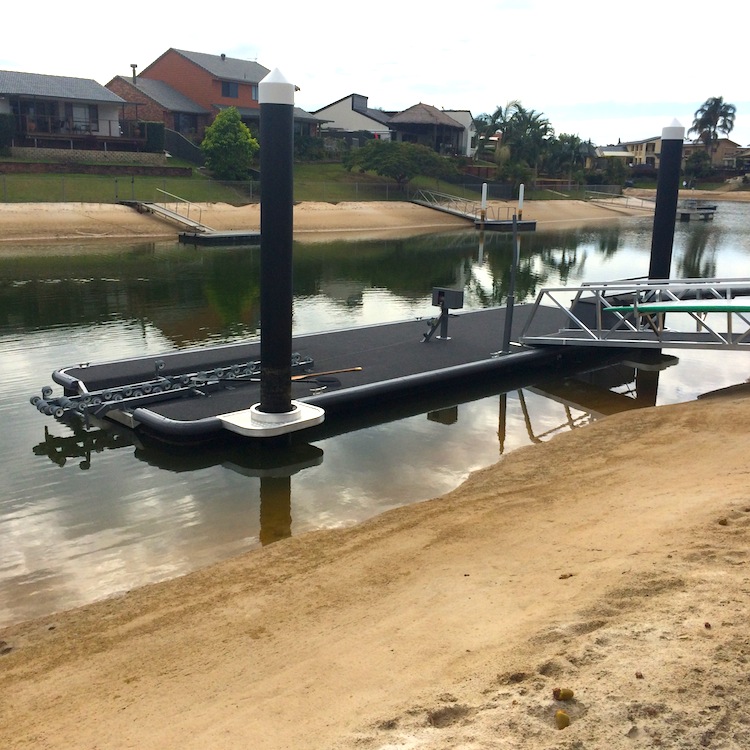 2: Strut Pontoons are made up of 3 components walkway, aluminium strut arm and stainless steel cable kit. The walkway is hard fixed on the land end (off to one side of pontoons) to a concrete mooring block and hard fixed to the whaler of the pontoon, this makes the walkway act as a brace, followed by this on the opposite end of the pontoon is the aluminium strut arm this is designed as a brace and is the exact same measurement as the walkway, having both the walkway and strut arm stop any forward and back movement. This last thing to go in place is the stainless steel cable kit, this is run in the shape of an X connecting to both inner ends of the pontoon and stops any left or right movement.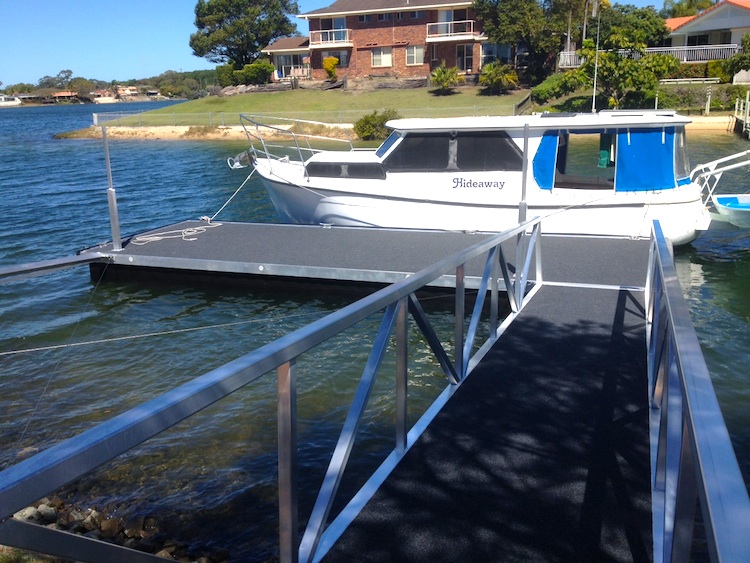 3: Cable Pontoons are just a portion of the above strut pontoon components, with the cable pontoons the walkway is hard fixed in the absolute centre of the pontoon to stop any back and forward movement then the stainless steel cable kit is added in the X shape and combined these keep the system in place. Cable pontoons are generally used in quiet calm waterways.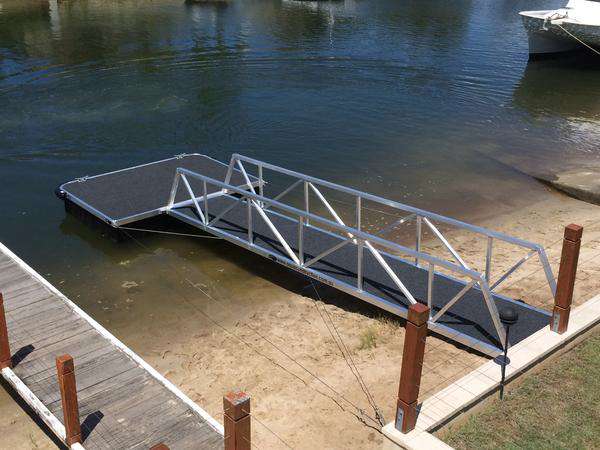 What is a jetty
The simple answer for a this is a jetty is fixed in place and doesn't float up and down with the tide and is commonly built from timber, which brings me to the first and BIGGEST issue with jetties. Jetties come with quiet a high maintenance task being commonly built from timber and exposed to the marine enviroment is not a good mix but if you are willing to keep up the maintenance then jetties can be a great place to entertain and relax.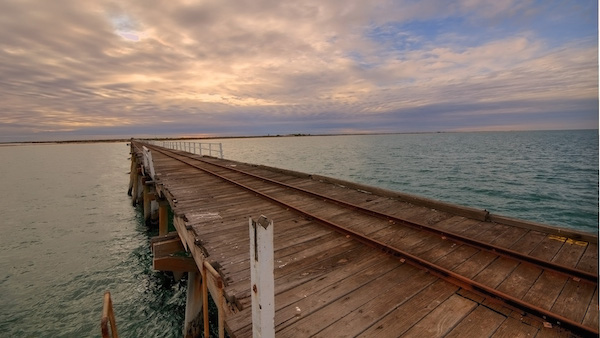 Take a leap back 20 odd years and our waterways were filled with jetties and very few if any pontoons, as these suited the times and capabilities of then. Come forward to today and very few timber jetties are built today, although in saying that we do still build a few in places like Sovereign Islands on the outside Broadwater facing properties where a pontoon simply couldn't survive from all the wash and rebound wash from the walls surrounding the island. The biggest flaw in a jetty is tiring up a boat, for example if you tie your boat up tight on high tide  and come back at low tide you will find yourself with either mooring cleats ripped out, a damaged boat or even a broken jetty, hence the reason today the pontoon is far more popular as it is easy to load and board and you don't need to worry about tidal changes.
It is quiet common for us to be removing an old timber jetty and replacing it with a new floating pontoon today and there are a few things that need to be considered before demolition a timber jetty, first and most common thing is asbestos piles, back in the 80s & 90s there were a lot of asbestos piles used in the construction of jetties and today these need to be specially handled when being removed. Not to worry there are several companies we use and recommend on the coast and would be happy to help you arrange.
Happy boating
Simon Dyer
https://aquapontoons.com.au/wp-content/uploads/2014/10/old-timber-jetty.jpg
338
600
Ross Meadows
https://aquapontoons.com.au/wp-content/uploads/2023/06/aqua-pontoons-logo-white-copy.png
Ross Meadows
2014-10-13 09:00:31
2014-10-13 09:00:31
Pontoons vs Jetties and the difference in pile types