Accessorizing your pontoon
These days the request for accessories on pontoons has grown quiet a lot so where at Aqua Pontoons we jumped on the band wagon and bought you a heap of cool stuff. One of our favourite things we offer are powder coated accessories for your pontoon like, jet ski and boat roller systems.
Adding the powder coating option to your pontoon roller system only adds about $300 to the price, this is a really good option as it also adds a layer of protection to the roller system.
The next popular item we install is a new design unique to Aqua and it is a seat/ladder combo, made from high grade marine aluminium it comes complete with 2x magnetic locks to clip into position when not in use.
The seat/ladder combo for your pontoon has a RRP $385.00 is a great safety feature for your pontoon should someone fall in the water.
This next pontoon accessory is one that not a lot of people know even exists, it is the kayak/paddle board racks that mount onto the hand rails of your pontoon gangway/walkway. In most cases these are welded onto the gangway but are also available in a bolt on version for existing gangways/walkways.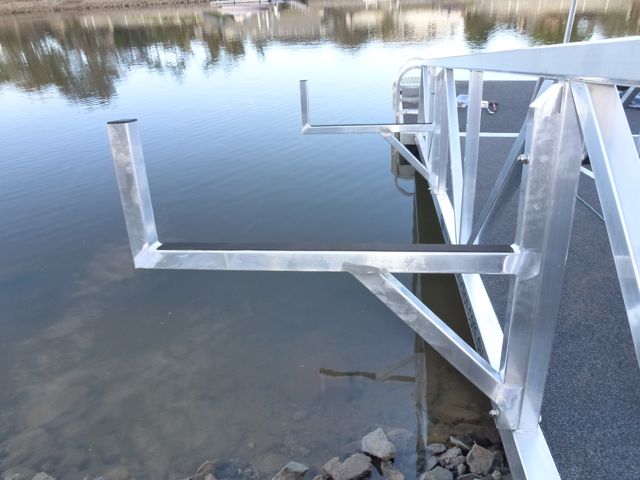 Next up is a MUST have option, the live bait box. The live bait box is a section built into the pontoon and sits below water level under pontoon therefore it has the water movement of tide changes. This is great for keeping fish, mud crabs and more alive and the basket can simply be removed and taken up to the house. This option is only available on new pontoons and has a RRP $299 for single or $349 for double.
It comes complete with heady duty lid with carpet to fit back in place when not being used.
Some of these items are available on our online store
https://aquapontoons.com.au/wp-content/uploads/2014/09/photo-5-1.jpg
750
1000
Ross Meadows
https://aquapontoons.com.au/wp-content/uploads/2023/06/aqua-pontoons-logo-white-copy.png
Ross Meadows
2014-09-08 10:56:51
2014-09-08 10:56:51
Accessorizing your pontoon