Choosing a pontoon size for your boat and budget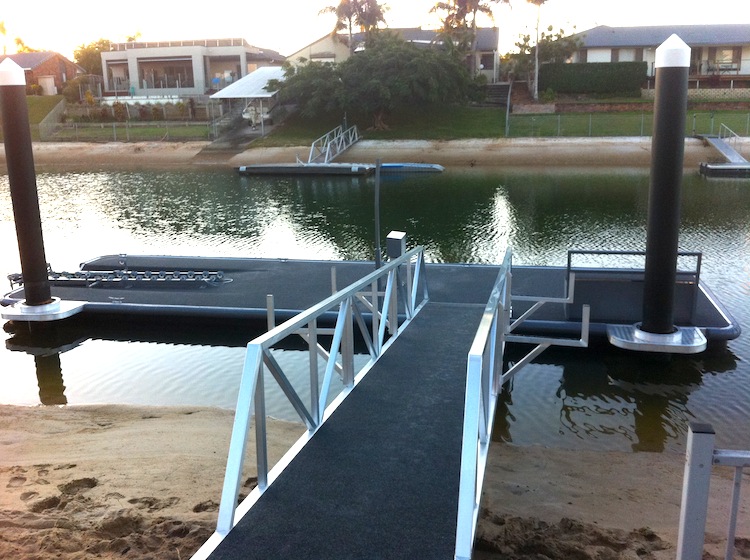 When it comes time to build your dream pontoon at your dream property it's always a hard choice to pick what size pontoon would best suit you. This week we are going to give you some advise on what size and style is best suited when it comes time to make that choice based on your boat size and budget.
The first thing to look at is the current size of your boat, lets say for example your boat is 6m long and weights under 1500kg, we would offer you the option of a dry berth pontoon which incorporates a tapered end allowing for a boat or jet ski to be parked on top of the pontoon using a roller system with electric or manual winch. Whenever you want to be putting a vessel on top of the pontoon we highly recommend a 3.5m wide pontoon, when having a 6m boat on top of a pontoon and the average beam of a 6m being over 2m this then allows (750mm) enough space to be able to walk safely down each side of your boat to load/unload prior to launching.
In the above example our boat is 6m long and we recommend a 3.5m wide pontoon, now what length would we recommend? Generally for this example we would offer an 8m or 10m pontoon allowing a few metres for boat growth in the future. Another general rule is boats 6m in length or under 1500kg is the maximum that can be berthed on top of a pontoon.
If dry berthing is not an option for you we still recommend a width of between 2.4m and 3.5m, narrow pontoons tend to be a little unstable and leave very little room for storage of kayaks and all the extras that commonly end up living on your pontoon. Below is a simple guide for boat lengths and what pontoon we recommend.
Boat length to Pontoon guide
| Boat Size | Pontoon Length | Pontoon Width |
| --- | --- | --- |
|  4m & under |  3.7m |  2.4m |
|  5m |  5.5m |  2.4m |
|  6m |  8m |  3.0m |
|  7m |  9m |  3.0m |
|  8m |  10m |  3.5m |
|  9m |  10m – 12m |  3.5m |
|  10m |  12m – 14m |  3.5m |
|  10m + |  Add 2-3m to boat length |  3.5m |
Please note: The above is a guide only, we recommend you speak with us directly to asses individual circumstances, council approvals are required for all new pontoon installations.
https://aquapontoons.com.au/wp-content/uploads/2014/11/Dry-Berth-Pontoon-2.jpg
560
750
Ross Meadows
https://aquapontoons.com.au/wp-content/uploads/2023/06/aqua-pontoons-logo-white-copy.png
Ross Meadows
2014-11-11 09:00:38
2014-11-11 09:00:38
Choosing a pontoon size for your boat and budget