Can I have a pontoon on my water front block?
In this weeks blog I wanted to explain the process of obtaining a pontoon approval and what your rights and limitations are and how long the process takes and time frames of manufacturing.
Step 1: Maximum pontoon size for your block
The maximum size pontoon for a block is determined on a few factors, the first one being your water frontage size (boundary to boundary) if your block has straight boundaries (not prolongated in or out) and you had 20m you would then need to deduct 1.5m from each boundary taking away a total of 3m. This is done as no structure except finger pontoons can be within 1.5m of the boundary, finger pontoons can be 500mm off a boundary. This would then leave you with a maximum pontoon size of 17m for a flat deck pontoon, otherwise if you wanted to berth a vessel on top of the pontoon you would need to reduce this to around 10m to allow for the boat to be driven on within your boundaries, the rule is the length of the boat +1m for a dryberth system from the nearest boundary.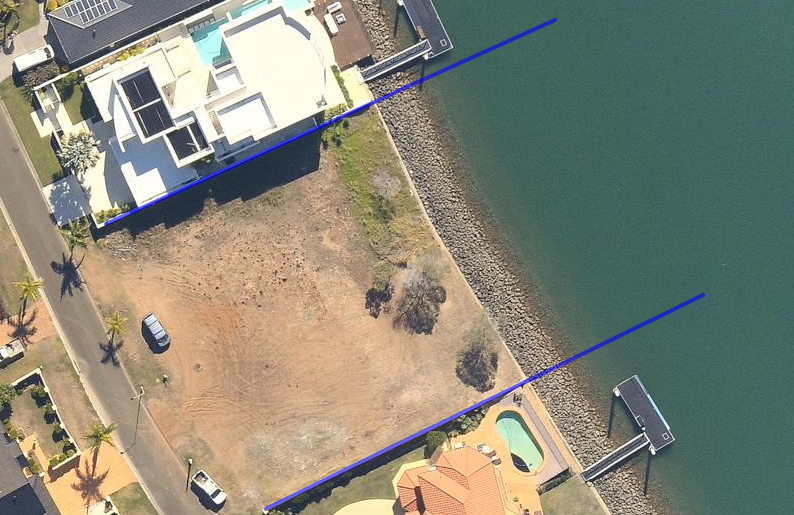 Step 2: What is a Quayline 
A quayline is determined by governing bodies such as Gold Coast Waterway Authority and represents the maximum distance out from revetment wall to front edge of the pontoon. This distance can vary from canal to canal and for the Gold Coast is normally between 8m and 12.5m with exceptions in certain areas with high sand build up may attract a bigger quayline. In the picture below you will see how this pontoon is measured and it's quayline.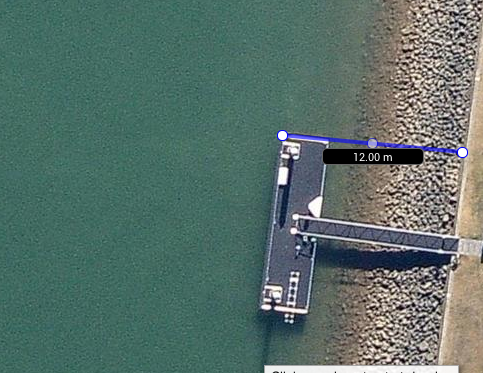 Step 3: How do I find out my quayline distance
Finding out your current quayline can sometimes be tricky but one of the best ways to get a fairly accurate idea is measuring neighboring pontoons that have been installed in the last few years, you can do this using the likes of Google Earth or a good old fashion tape measure and a nice neighbor, although quayline can be revised at anytime for new installations this will give you a pretty good assumption. Even better again you can give us a call and we can check our quayline plans for your area or contact your local authority.
Step 4: How long does the approval process take
Here at Aqua we pride ourselves on being one of the fastest in the industry for obtaining council approvals and certified engineering drawings of your pontoon, generally on the Gold Coast we can have a completed approval back in less than 4 weeks, however sometimes it can take longer for a number of reasons but this is fairly uncommon. We also provide you with engineer drawings for checking locations of pontoon, walkways and accessories prior to submitting your approval this is typically done in less than 7 days.
Step 5: How long does manufacturing and installation take
The tricky part about the pontoon industry is that the council can come back to us with changes to the plan making it nearly impossible to start construction prior to approval being completed. In saying this we can generally order your components a week or so prior to final sign off. Once the approval is received the manufacturing process kicks straight into gear with fabrication of gangways, wrapping the foam void and preparing the outter and inner frames of the pontoon, see this post on how a pontoon is made. Installation is generally with 3 or so weeks of approvals being received and depending on the setup we are generally onsite no more than 2 days to complete.
I hope this post makes it a little clearer on how our process works and if you have any questions or would like a quote on a new pontoon please don't hesitate to fill in the enquiry form below or give us a call on 1300 207 848
https://aquapontoons.com.au/wp-content/uploads/2014/08/Screen-shot-2014-08-11-at-10.05.36-AM.png
373
483
Ross Meadows
https://aquapontoons.com.au/wp-content/uploads/2023/06/aqua-pontoons-logo-white-copy.png
Ross Meadows
2014-08-11 10:34:54
2021-12-20 10:54:51
Can I have a pontoon on my water front block?