The heavy duty series pontoons

Aqua Pontoons are well known for their quality line of pontoons, including the heavy duty piled pontoon range, the concrete heavy duty series pontoons are built with a number of key factors when it comes to strength.  This week I wanted to talk a little more about this following on last weeks post about the Light Weight Series.
Aqua's heavy duty concrete series is built using only quality products and high grade marine material and concrete.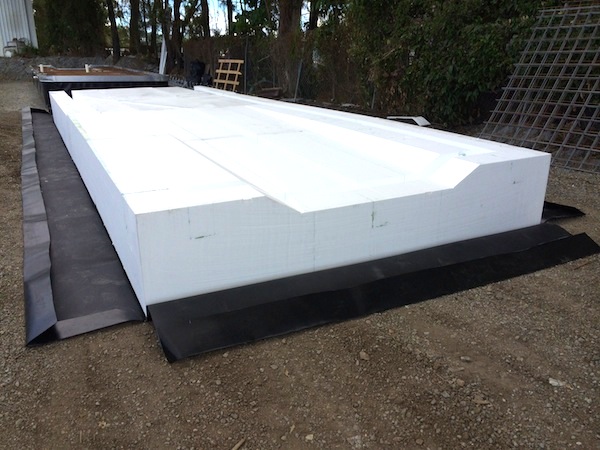 Starting from the polystyrene void wrapped in heavy duty HDPE liner, this is how the pontoon gains its floatation component with the HDPE liner there only to protect the foam void from any marine creatures chewing/pecking at the foam. The foam void contains a low absorption rate of approx. 7.5% meaning that if the liner was ever damaged or removed the pontoon would never sink.
Next we move on to the conduit sections where any electrical or water locations are installed prior to the rebar being added to allow for easy installation of lighting, taps, electric winches and boat lift power outlets.
Follow the conduit the pontoons water or aluminium frame is placed on top of the void and the rebar is added to the required locations according to the engineering plans for that pontoon, the rebar is then welded to the supporting rods from the inside of the waler holding it in place.
Next we carry out a concrete pre-pour to fill in the perimeter beams and trenches, these are designed for strength and have rebar installed which helps tie the whole pontoon into one piece. Following curing time, the major concrete pour takes place and is left to cure for a specific amount of time depending on the size of the pontoon and before it can be lifted or transported.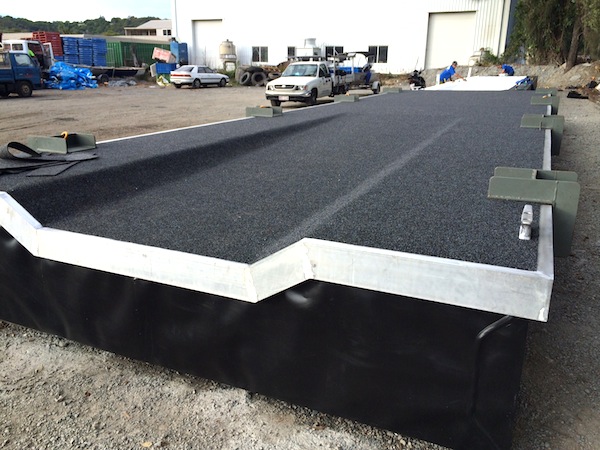 Now for the final touches, in most cases the pontoon is finished with first grade marine carpet and scheduled for transport.
During the above stages and following council approval the piles and footings will be installed out onsite and the fabrication of the gangway will be complete ready for the arrival of the pontoon, in most cases the pontoon is installed within one day.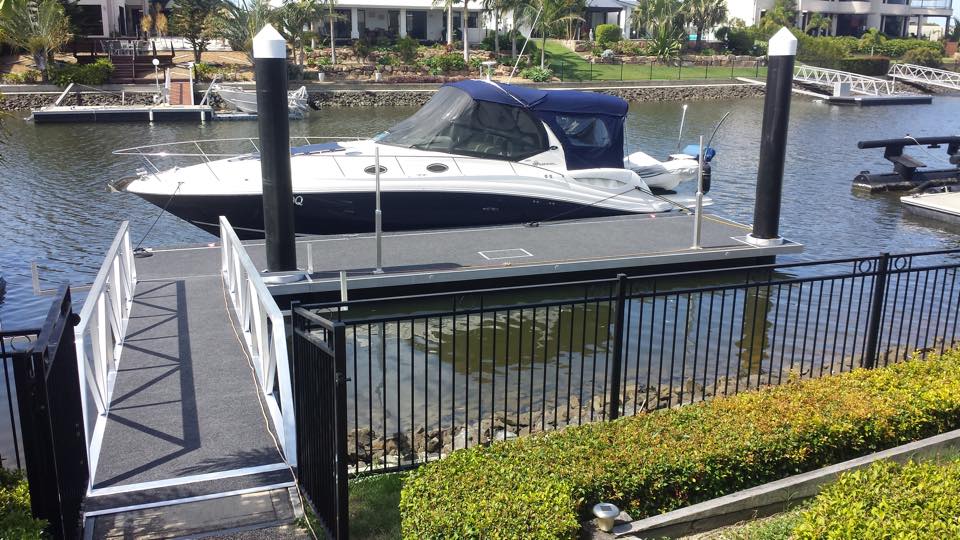 Hope you enjoyed a quick explanation of how our heavy duty series are made, you can download our brochure here or visit our piled pontoons page here for more specifications.
https://aquapontoons.com.au/wp-content/uploads/2015/02/10696351_376176545876860_98426939347089400_n.jpg
540
960
Ross Meadows
https://aquapontoons.com.au/wp-content/uploads/2023/06/aqua-pontoons-logo-white-copy.png
Ross Meadows
2015-02-17 09:00:42
2015-02-17 09:00:42
The heavy duty series pontoons